British Values​​​​​​​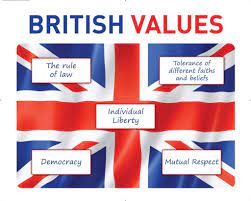 At Sherborne St John C of E Primary School we prepare children for life in modern Britain by promoting British values through our spiritual, moral, social and cultural education which permeates our curriculum and supports the development of each child as a unique individual. This focus works alongside our Christian ethos and core values of trust, forgiveness and truth.
The DfE has recently reinforced the need "to create and enforce a clear and rigorous expectation on all schools to promote the fundamental British values of democracy, the rule of law, individual liberty, mutual respect and tolerance of those of different faiths and beliefs".
At Sherborne St John C of E Primary School these values are reinforced regularly in the following ways:
Democracy
The value of democracy is embedded in our school. At the start of every school year children are involved in a democratic voting system, whereby they vote for members of their class to represent them on the School Council. In addition to School Council representatives putting forward suggestions to the School Council, children also have opportunities to voice their opinions through other means, for example participating in pupil conferencing with governors and pupil questionnaires. We believe that all children should have an opportunity to take on additional responsibilities as part of our school community, for example children in Year 6 can apply to become School Ambassadors.
The Rule of Law
The importance of rules and laws are reinforced throughout our school, whether they are those that govern the class, the school or the country. Children are involved in creating and regularly reviewing their class charters to help themselves and each other make choices that are acceptable to the class, school and society as a whole. Our school has a clear behaviour policy, which is understood and followed by all stakeholders. Wherever possible, through marking and homework, pupils are given individual feedback giving them the opportunity to gain insight and take accountability for their actions.
Children are taught the value and reasons behind rules and laws, that they govern and protect us, the responsibilities that this involves and the consequences when they are broken. Our Year 6 Playmakers have the opportunity to create warm-ups and games with younger children during lunchtimes which involve incorporating rules. The importance of teamwork and an understanding of the importance of rules in sports such as Tag Rugby give a great opportunity for children to demonstrate successfully their apprehension of the rule of law.
Individual Liberty
Within our school pupils are actively encouraged to make choices, knowing that they are in a safe and supportive environment. We provide boundaries that enable children to make choices safely. Children are encouraged to understand and exercise their rights and personal freedoms whilst respecting the rights of others. We teach the children how to do this through our e-safety and PSHE lessons. We appreciate that children learn in various environments and like to explore these through the structure of the classroom and in the diversity of the great outdoors, making the most of our close links with our local National Trust property and the National Trust Guardianship Scheme.
Children are given the opportunity to make choices across the school, whether it be through the choice of challenge in their work, participation in clubs, or taking on additional responsibility. Participation in sport and games at the school gives children a wonderful opportunity to explore their freedom of choice in a supportive and empowering environment. Some year groups are given the opportunity to explore different types of music and demonstrate their new skills to parents and family at the end of the term through the Hampshire Music Service Listen to Me Scheme. We encourage all children to make the most of the chance to perform in school plays and it is a real privilege to witness the sense of a cohesive community that results from their efforts.
Mutual Respect and Tolerance of those with Different Faiths and Beliefs
All that we do at Sherborne St John C of E Primary School revolves around our Christian values of trust, forgiveness and truth. These values underpin all aspects of school life, are explored through collective worship and PSHE in particular and provide excellent opportunities to consider how we can demonstrate them to others. These values result in an understanding of respect and tolerance of others with pupils being encouraged to participate in discussions and assemblies related to what this means and how it is shown. Posters around the school promote respect for others and this is reiterated through our classroom and learning promises, as well as in our behaviour policy.
As part of the wider curriculum we make time to ensure that children are given the opportunity to explore different faiths and beliefs through learning about other significant religious festivals across the year. Children of different faiths or religions are encouraged to share their knowledge and experiences to enhance the learning of other children.
As a school we find ways of drawing closer together as a community by celebrating traditional British festivals such as Harvest, conker competitions, Christmas and Easter as well as May Day with accompanying country dancing and at these events, whenever possible, invite others from our local community and families to join us.